Clarity in time of uncertainty
18 February 2019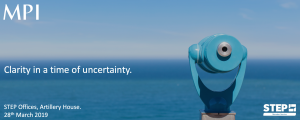 In times of market uncertainty, it is more important than ever to understand how your managers are weathering the storm.
This CPD event will show you how, using MPI's free service and tools you can make more informed investment decisions. We will show you how you can generate an online investment policy statement and create a bespoke panel of managers to find, compare and select the right mandate for your clients.
This session is open to STEP members and other private client advisors. We will also be webcasting this event for those who are unable to attend in person. Please register below and we will send you further details.
When:
9:00 am – 9:45 am
28th March 2019
Where:
Artillery House,
11 – 19 Artillery Row,
London SW1P 1RT